NuPLastic Film Systems are multifunctional transfer and water resistant films based on the combination of NuLastic Silicone Elastomers and Polyderm Polyurethane water based dispersions.The synergy of the thermoplastic resins and silicone elastomers yield emollient and flexible films, as well as, long wear and the delivery of water soluble and water insoluble actives.
NuPlastic Film Systems
A new film forming technology based upon silicone thermoset elastomers (TSE) combined with water based thermoplastic resins (TPE). The synergy of the polymers yield durable and flexible films as well as long wear, water and transfer resistance, and delivery of high levels of oil or water soluble actives. The films set almost immediately with virtually no dry time and can be customized to provide matte or shiny finishes.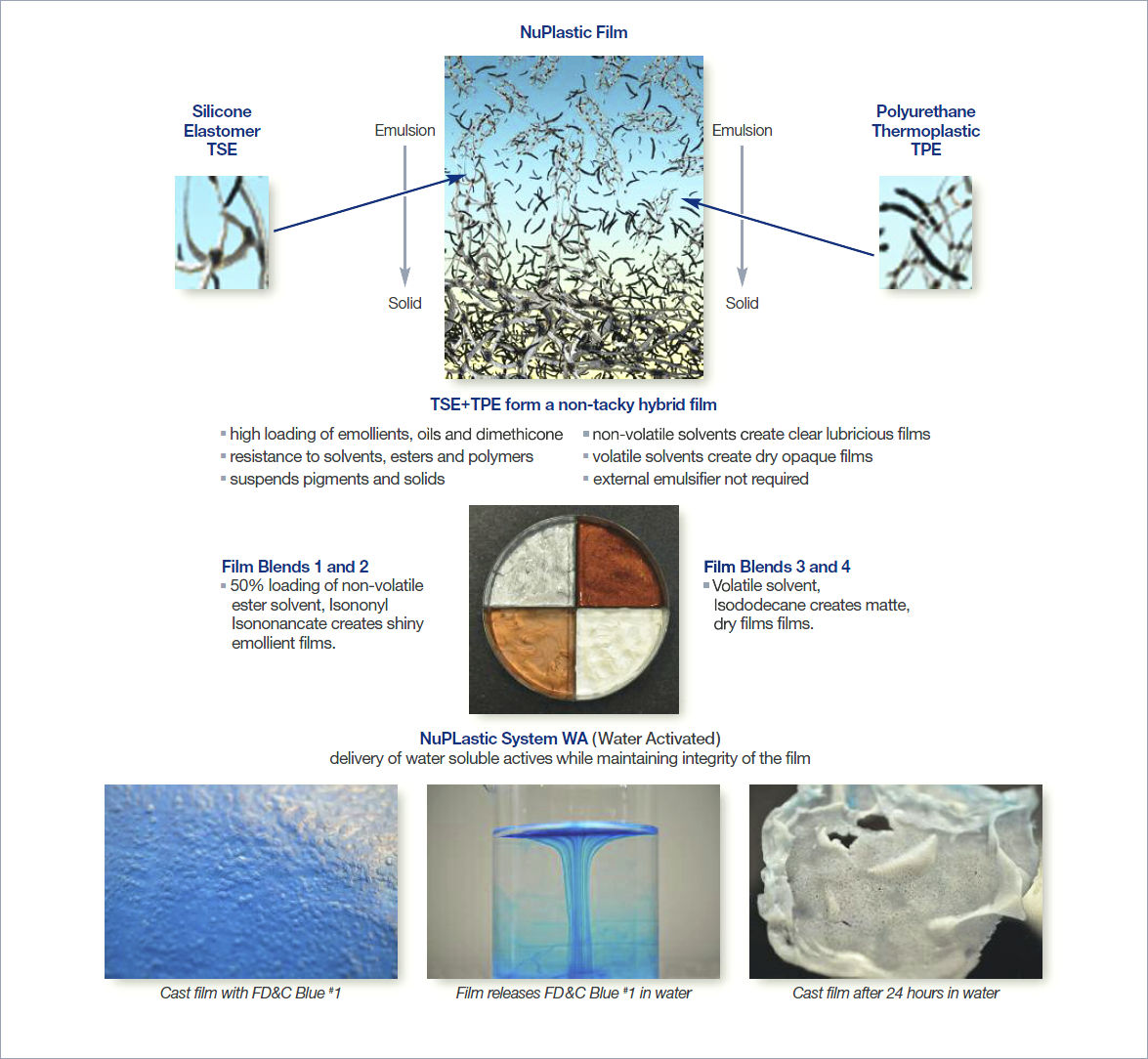 NuPLastic Lipgloss CRI-76
PHASE A
NuLastic Silk-E ID-LSA1
Isododecane (and) Polysilicone 23
50.0
 
Dermol 99

1

Isononyl Isononoate
9.5
 
Simulgel EG

2

Sodium Acrylate/ Sodium Acryloyl- dimethyltaurate Copolymer (and) Isohexadecane (and) Polysorbate 80
0.3
 
Polyderm PE-PA ED

1

Polyurethane 58
30.0
PHASE B
Oxide/ Lake Blend CRI-310

6

Mica (and) Perflourooctylethyl Triethoxysilane
2.0
PHASE C
Pearl Blend CRI-311

4

Silk Silver Cloisanne Gold
8.0
 
Microcare MTO

5

Methylisothia- zolinone (and) Iodopropynyl Butylcarbamate
0.2
 
 
Total:
100.0
 
 
Manufacturing Procedure:
1) Mix Phase A until homogenous
2) Add Phase B and mix until homogenous
3)

Add Phase C and mix until homogenous

 
 
Supplier Index:
1 ALZO
2 SEPPIC
3 KOBO
4 ALTANA (ECKART)
5 THOR
6 SENSIENT
NuPLastic Bronzing Cream CRI-18
PHASE A
NuLastic Silk-E ID-LSA 101
Isododecane (and) Polysilicone 23
10.0
 
Polyderm PE-PA ED

1

Polyurethane 58
10.0
 
Dermol GRC

1

Glyceryl Ricinoleate
1.0
 
Microcare MTO

5

Methylisothia- zolinone (and) Iodopropynyl Butylcarbamate
0.2
 
DI H2O
Deionized Water
60.55
PHASE B
Cetyl Alcohol

1

Cetyl Alcohol
3.0
 
Dermowax GMS SE1
Glyceryl Monostearate
4.0
PHASE C
Oxide Blend CRI-2773
 
4.25
 
Pearl Blend CRI-2784
 
7.0
 
 
Total:
100.0
 
 
Manufacturing Procedure:
1) Homogenize Phase A ingredients
2) Increase temperature to 70ºC
3) Add Phase B ingredients and mix until homogenous
4) Start cooling
5) At 50º-60ºC, add Phase C
6) Mix while cooling to <35ºC
 
 
Supplier Index:
1 ALZO
5 THOR
3 KOBO
4 ALTANA (ECKART)
NuPLastic Shimmer Eye Shadow CRI-129
PHASE A
NuLastic MA ID 6%1
Isododecane (and) C4-24 Alkyl Dimethicone/ Divinyldimethicone Crosspolymer
45.0
 
Isododecane
Isododecane
9.3
 
Simulgel

2

Sodium Acrylate/ Sodium Acryloyl- dimethyltaurate Copolymer (and) Isohexadecane (and) Polysorbate 80
0.2
 
Polyderm PE-PA ED

1

Polyurethane 58
25.0
PHASE B
Eusolex T

6

Titanium Dioxide
9.1
 
Talc AS6
Talc
5.3
PHASE C
Ronastar® Golden Jewel

6

Calcium Aluminum Borosilicate (and) Titanium Dioxide (and) Iron Oxides (and) Tin Oxides
5.9
 
Microcare MTO

5

Methylisothia- zolinone (and) Iodopropynyl Butylcarbamate
0.2
 
 
Total:
100.0
 
 
Manufacturing Procedure:
1) Mix Phase A until homogenous
2) Add Phase B and mix until homogenous
3)

Add Phase C and mix until homogenous

 
 
Supplier Index:
1 ALZO
2 SEPPIC
5 THOR
6 SENSIENT